Gas Concentration Analyzer for Hydrogen Fluoride (HF)
AMC Monitoring for Inorganic Gases
The Picarro SI2205 gas concentration analyzer delivers ultra-precise, parts-per-trillion (ppt) measurements of hydrogen fluoride (HF) in a reliable, easy-to-use, compact design. The SI2205 can be commissioned and operating within minutes, requires no field calibration or consumables, and can operate for months without user interaction.
Real-time AMC monitoring in cleanrooms, FOUP and fab equipment
Fast, continuous analysis in seconds
Virtually no downtime or consumables cost
Free of interference from common fab chemicals
Extreme accuracy for event confirmation
No field calibration required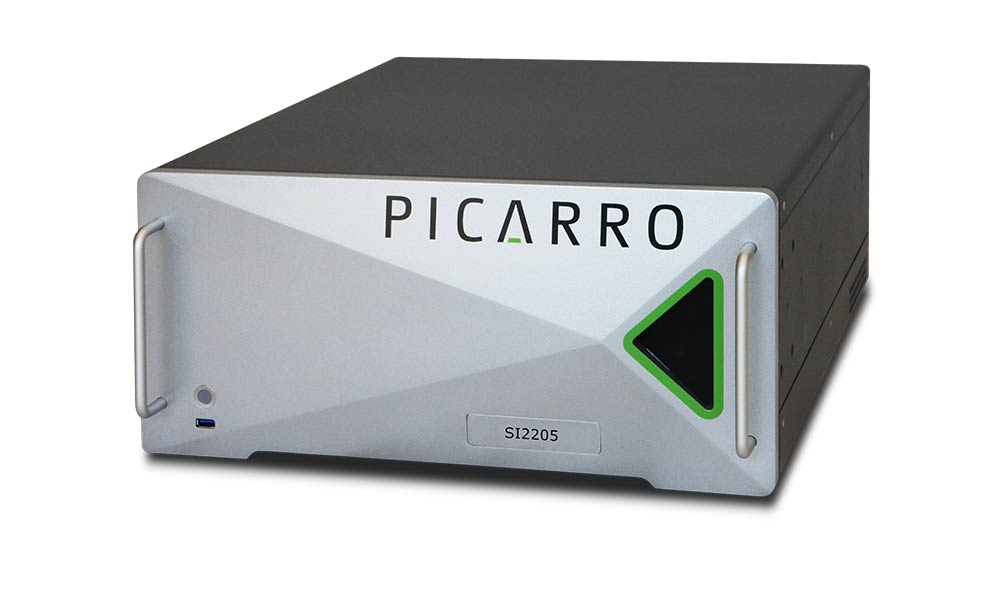 Gas Detected
Hydrogen Fluoride (HF)
Precision (1σ)
≤30 ppt (10 sec),
≤10 ppt (100 sec)
Lower Detectable Limit (3σ)
30 ppt
Method Detection Limit


(per Semi C10-1109)

500 ppt
Linearity


(per IEC 61207)

±1%
Accuracy at span
±5% @ full scale
Accuracy at zero
±25 ppt
Instrument-to-Instrument Consistency
±5% @ full scale
±25 ppt @ zero
Measurement Range
0-1 ppm
Measurement Interval*
< 4s
Sample Flow Rate
~2 slpm
Combined Response Times


(T90/10 + T10/90) @ 20 ppb

<3 min
Fall Times


T90/10 @ 20 ppb

<1 min
*-Measurement interval at span may increase as much as 2x above listed values.
| | |
| --- | --- |
| Measurement Technique | Cavity Ring-Down Spectroscopy |
| Calibration Period Recommendation | Calibration not required - Initial validation at 6 months, then every 12 months thereafter |
| Time Required to Perform Validation | Estimated at <15 minutes per manufacturer's instructions |
| Measurement Cell Temperature Control | ±0.005°C |
| Measurement Cell Pressure Control | ±0.0002 atm |
| Operating Temperature | 15 to 35°C (operating); -10 to 50°C (storage) |
| Ambient Humidity | <99% RH non-condensing |
| Accessories | Pump (external, included), keyboard (included), mouse (included), LCD monitor (optional), Maintenance Kit (optional) |
| Communication Interfaces | RS-232, Ethernet, USB, analog 0–10 V, Modbus, 4-20mA(optional) |
| Sample Inlet Connection | 1/4" Stainless Steel Swagelok® Tube Fitting (recommended 1/4" OD PFA Tubing) |
| Dimensions | Analyzer: 17" w × 8.38" h x 24.4" d (43.2 × 21.3 × 62 cm) |
| Weight | 73 lbs. (33.18 kg) including external pump |
| Power Requirements | 100–240 VAC, 47–63 Hz (auto-sensing), <400 W (total): 250 W (analyzer), 150 W (pump) at steady state |
| Warranty | 12 months |
| Certifications | CE conformance |
| Country of Manufacture | USA |
| Components/Parts | Actions | Frequency |
| --- | --- | --- |
| Particulate filter | Replace | Every 6 months |
| Measurement Validation | Proxy validation | Every 12 months |
| Pump | Rebuild (diaphragm) | Preventive maintenance every 2 years |
| Fan assemblies | Replace | Preventive maintenance every 2 years |
| External Pump | Replace | Every 5 years |